Here we are at "U" week:

U is for Updates.
I was looking back through some of my posts and things have changed around here...
even
in the past five months
well, maybe
five weeks
okay, okay
past five days...
So I am going to update you on some of the things I have been doing.
Let's start with my bookcases.
Remember my whole
"remove the condiment stand phase"?
Well here is the before:
And here is the after:

Yeah, that is A #2's leg. She is looking for her
15 minutes of fame.
Oh and now after seeing this picture, I am thinking of
painting the brick.
Do you all have an opinion on that??
How about the
scary
laundry room? Here is the before:
Here is the after:
Hubby built me the shelf thing from
Sausha's site.
Mine is not as high as hers because I had to be careful not to block the fuse box. But it is actually a good thing it isn't because if it were any taller I wouldn't be able to see to put the detergent into the machine!! ( I am 5'4") I sometimes have to stand on my tip toes to get the detergent out of the jar!!! But at least now I have a storage place for the bins I made for the kids' clothes.
Those bins are just plastic storage bins with chalkboard squares painted on them. The kids names are written on the bins.
I don't have a great picture of my entry way
before I got hold of that too,
but here you can sort of see the red walls:
Here is a better shot full on with the new
softer yellow walls.
You can also see my new vinyl scripture.
It is still on the paper because I am just a
commitment-phobe.
I know as soon as I scratch that thing onto the wall I will find a better place for it. I am still trying to decide on the spot above the mirror or the area above the door that leads into the living room.
Decisions, decisions.
Oh, you can also get a glimpse of my
light fixture
I found for $20 and painted red. I am thinking about getting the
small drum shades
from Ballard's (in burlap, of course).
I am linking up with Jenny again this week for Alphabe-Thursday.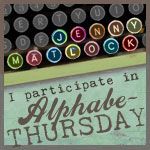 Come back around Saturday, I have another post for "U." I also have posts in mind for the rest of the alphabet, except maybe "Z," any suggestions?