Name that movie....
Okay everyone, this is one of those things that turned out even better than I planned it to. I have to give you the whole story before I get to the "how-to" so just hang in there with me.
I have two side lights beside my front doors ( I think that is what they are called) that are solid, clear glass.
Here is a little piece of trivia about me…I'm one of those people who like to drive around neighborhoods at dusk (when it is getting dark and people haven't put their blinds down yet) and see how others have their houses decorated. I'm not a

climb into the bushes

"tom the peeper," more like the

drive by kind.
But at any rate, I don't mind people seeing in my windows, but I would like to have some
control
about when they can and can't. I love the light that comes in from these windows so I didn't want to block it completely and they are pretty narrow and I thought that blinds or curtains would be too heavy. I am a "Designed to Sell"
freak
and I saw how they used a spray paint "frost" and I thought "I can do that!"
The other exciting thing was I have been reading about the Rust-Oleum spray paint thing at Shanty 2 Chic and I wanted to participate, but I thought "I don't have time to create a project just to play with the other bloggers." But last night my hubby and I were getting ready to spray one of the windows and
LO AND BEHOLD

…
.the frosting spray I bought a month ago (before I knew about this party) is no other that
RUST-OLEUM!
Whoo Hooo!
I was so excited! I get to play too!
Anyway, here is what I did.
I found a stencil that I loved at your friend and mine, Hobby Lobby. I was going to spray with the stencil directly on the window, but as I thought about it I decided that wouldn't provide enough privacy. (If I did it that way only the "swirly" parts would be frosted, most of the window would remain clear) Keep in mind, I have had the spray frost for over a month so I have been pondering the how-to aspect for quite some time. Just last week, as I was falling asleep, I had a revelation to use
contact paper
and make a
sticky stencil
that would cover the whole window.
So I got the contact paper and traced the design (over and over) all the way down the paper. (I first cut the contact paper to fit the window). This is the contact paper stuck to the window with the design drawn on it.
Next I stuck the paper onto the window, then the
tedious part
began. All those cute little swirls had to be
cut. one. by. one.
Remember I wanted more frost than not so I had to leave the swirls on the window and remove the bulk of the contact paper.
Here is where it helps to be
very
meticulous or, in my ever so grateful case, have a meticulous husband.
More trivia about me, as you have in read in previous blogs I have decorating ADHD. I LOVE projects, but I love quick projects more. Maybe I am more of an immediate gratification kind of girl.
At any rate, each step of this project is a little time consuming. So,put on some good music, put in a great Christmas movie, or have someone to keep you company while you cut, cut, cut away.
Here is my hubby cutting away with an exacto knife. That sweet man spent a few hours cutting out all those little swirls for me.
Next, get your Rust-Oleum Frosted Glass spray and
shake it sister
. If you are in a tight space where you can't isolate the item you are working on, use some kind of barrier (Hubby and I held up cardboard on each side of the window) to protect your walls and other close by objects from the frost shrapnel. You will notice on the can it says "spray in a well-ventilated area,"
boy are they serious
. I would hold my breath, spray about a foot's worth of window, and then stick my head out the door and breathe! We had the front doors open, but that stuff is pretty stout. At any rate, we put about 2-3 coats on the window then the removal process begins.
As I mentioned, I am not meticulous—I am more the impatient type. I started to take off some of the swirls and a ripped a few small pieces of frost off the window. Then I decided I would have to score around the swirls before removing them. I did a few, but then my precious meticulous man stepped in and scored and removed the rest.
Drumroll please
lblblblblblblblblbl...(
that's a drumroll)
It looks amazing! I am so pleased with the results!
Thank you Rust-Oleum!! Thanks to you I am off to play with the other bloggers at Shanty 2 chic!!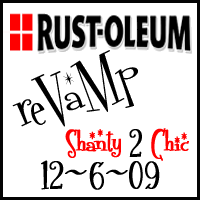 Oh, now we just have to do the second window…..

P.S. The title is a quote from the movie "How To Lose a Guy in 10 Days"
I am also going to link up to Donna at Funky Junk...I just love her and her great ideas!